Why Train in Wrestling at Crazy 88?
Get In Amazing Shape
Get in unbelievable shape with one of the most physically demanding workouts possible!
Superior Self-Defense
Learn how to take opponents to the ground and avoid being taken down yourself.
Top-Level Coaching
Train under a veteran wrestler and NCAA Division 1 All-American.
Compete and win
Compete in local and international competitions.
Best Training In Baltimore
Train Multiple Wrestling Styles
At Crazy 88 MMA, we understand that wrestling is an integral part of both Mixed Martial Arts and grappling sports. Our students work on takedowns and takedown defense, as well as proper setups. Techniques from Folkstyle, Freestyle, and Greco-Roman wrestling styles are taught. There is an emphasis on accuracy and proper technique.
Top-Level Coaching
We are fortunate to have a NCAA Division 1 All-American wrestler as one of our coaches. Crazy 88 students have access to an instructor who has competed (and been successful) at an extremely high level of competition. Wrestling is widely accepted as the most physically grueling of all college sports. Having attained All-American status at a Division 1 level indicates an amazing commitment to the sport. Coach Bryan is at Crazy 88 to pass that knowledge and experience onto you. PLUS he happens to be a very nice guy!
Beyond that, our coaching staff has expertise in the other areas of fighting, such as Jiu-Jitsu and Muay Thai Kickboxing. This allows us to easily adapt combative techniques to different competitive areas – whether the Crazy 88 student needs to improve his takedowns for a Mixed Martial Arts fight, grappling event, or even the next season of wrestling.
Community Ties
Crazy 88 Mixed Martial Arts also maintains close ties with Howard County youth wrestling. Our facilities play host to out-of-season wresting camps and seminars throughout the year. In fact, Crazy 88 Kids Martial Arts students regularly medal at the Maryland State wrestling championship for their respective High School teams. These place-winners often come back and continue training once they stop wrestling as well.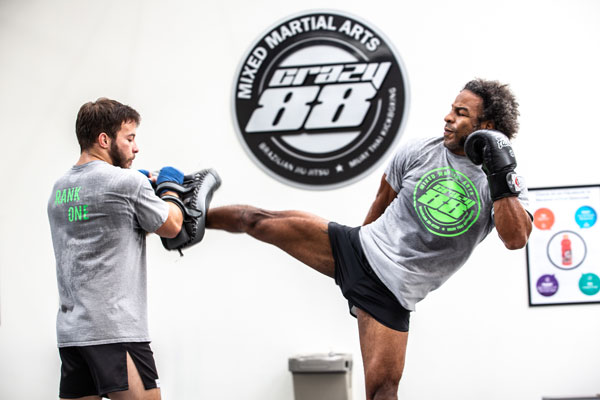 The Crazy 88 Starter Kit has everything you need to know about our programs.
Topics Covered Include:
Tuition Guide - How Much Does Training at Crazy 88 Cost?
6 Common -But Easily Avoidable- Mistakes People Make When Choosing a Martial Arts School
Six Costly Martial Arts Misconceptions that Parents Mistakenly Believe
FOR COMPETITORS - The Dirty Secret that Baltimore-area MMA and Jiu-Jitsu Schools Don't Want You To Know
Need to Gain Skills Fast?
Personal Wrestling Training Available
Private wrestling training is available. If you are under a strict schedule or would just like to supplement your group classes, personal lessons are a great option.
Our trainers will provide a customized session for you – that will match your experience and fitness level. These lessons are popular for busy executives, children who aren't ready for adult classes, as well as those with special concerns such as religious or health restrictions.
Meet your goals head-on with best-in-class personal wrestling training at Crazy 88 Mixed Martial Arts.
Rave Reviews from Other Wrestling Students
"I got my son involved because it complements his wrestling and he's enjoyed it a lot. He just had his first tournament and had a win. "
"If you want to be great at something, we have the facilities and we have the personnel that can make your dreams come true as far as martial arts. "
Tim Spriggs
Jiu-Jitsu World Medalist - Black Belt level
"Why go anywhere else and train with someone not as good as Crazy 88? I'd rather come here and get beat up everyday. That way I know I'm learning and I'm getting better. "
"I've been other places where coaches aren't very diligent at teaching, and a little bit lazy. Crazy 88 is a really good environment. Everybody's been nice, but at the same time training very seriously."
You can't win if you don't train. Get started!