Why Train Muay Thai at Crazy 88?
Best Defense
Learn to properly defend yourself against punches and kicks
Explosive Power
Master knockout strikes and build unmatched power in your punches, kicks, elbows, and knees
Cardio & Strength
Develop strong cardio along with devastating moves. Muay Thai training increases your cardio and builds strength at the same time.
Laser Focus
Improve focus and concentration and increase eye/body coordination
Authentic Muay Thai In Maryland
Kickboxing Is Our Business.
When we say we have an "authentic" Muay Thai Kickboxing program, we don't mean that we wear Thai clothing, and primarily focus on knees and clinching. Authenticity to us means real skill development. Our students develop the ability to punch, kick, elbow, knee, and clinch – anyone and everyone. If you train at Crazy 88, and then move to Thailand or Holland, or make the switch over to MMA, you can be confident that your skills will stand the test!
Unlike most Mixed Martial Arts schools, Crazy 88 runs its Muay Thai Kickboxing program as a standalone, specialized program. Muay Thai Kickboxing is not viewed as an afterthought to MMA or UFC Fighting. Students train in Muay Thai Kickboxing – utilizing and learning techniques from both the Thai and Dutch styles. Students are encouraged to compete in pure striking events and grow with a student base that has a wide level of different skill levels. We have casual students as well as competitors of all ages and all skill levels.
Need to Gain Skills Fast?
Personal Muay Thai Training Available
Private Muay Thai training is available. If you are under a strict schedule or would just like to supplement your group classes, personal lessons are a great option.
Our trainers will provide a customized session for you – that will match your experience and fitness level. These lessons are popular for busy executives, children who aren't ready for the adult classes, as well as those with special concerns such as religious or health restrictions.
Meet your goals head-on with best-in-class personal Muay Thai training at Crazy 88 Mixed Martial Arts.
The Right Team & Instructors
Your winning record starts at Crazy 88.
Members of the Crazy 88 Muay Thai Competition Team are trained to compete in all levels of competition. We start with local smoker fights, guide you to amateur shows, and train you for international and professional events. Our ultimate goal is to see our most promising students fight in the top international events such as in the legendary Bangkok stadiums or in the famed Glory and Lionfight promotions.
Those wishing to take their Muay Thai training to the next level will enjoy the variety of complex combinations, clinch techniques, and live sparring sessions. Students will learn various offensive, defensive, and counter attack techniques. These techniques may be applied during live sparring sessions.
Competition-oriented students will also have the assurance of working with trainers who have experience at the highest level of the sport. Our trainers have coached and cornered in almost every major event – from Bangkok to Glory to Lion Fight to the Ultimate Fighting Championship.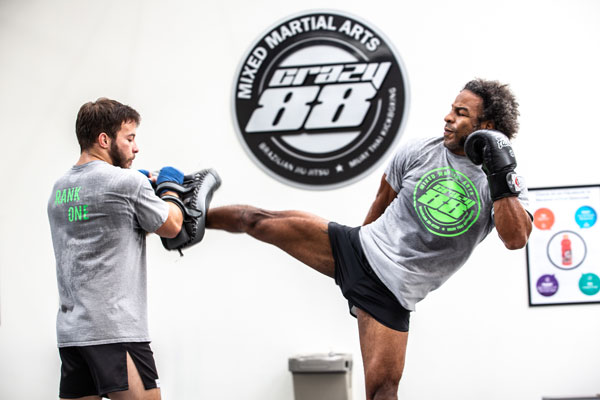 The Crazy 88 Starter Kit has everything you need to know about our programs.
Topics Covered Include:
Tuition Guide - How Much Does Training at Crazy 88 Cost?
6 Common -But Easily Avoidable- Mistakes People Make When Choosing a Martial Arts School
Six Costly Martial Arts Misconceptions that Parents Mistakenly Believe
FOR COMPETITORS - The Dirty Secret that Baltimore-area MMA and Jiu-Jitsu Schools Don't Want You To Know
Rave Reviews from Other
 

Muay Thai Kickboxing

 

Students
"The instructors are really good, and all the people are friendly."
"I've gotten more visibly in shape. I've lost some weight. I've toned up a lot more and I've also gained the self confidence that you can only gain here because the coaches push you. "
"The instructors are really trying hard to make sure you're learning a skill, and that's what I love. I really feel like I'm paying for something that's going to stay with me for life. "
"This gym is hungry to make good fighters and have people with good character. I am proud to say I train at the Crazy 88 and can't wait to improve my skills. "
You can't win if you don't train. Get started!