Get In Amazing Shape
Maximize fat loss with a great cardiovascular workout.
Superior Self-Defense
Develop hand speed and power without having to spar (sparring is optional.)
Train with a team
Build confidence and make new friends.
Be A Competitor
Compete in local and international competitions.
Learn "The Sweet Science" with a Time-Tested Curriculum
Get Started on the Right Foot
At Crazy 88 Mixed Martial Arts, we believe in providing our students with a solid foundation of basic techniques and fundamentals. Boxing is a highly technical striking discipline,  known as  "The Sweet Science," so it is critical for students to get started on the right foot.
In our Boxing Fundamentals classes, students will learn all the basics of the Sweet Science: how to throw effective punches, basic combinations, proper boxing stance, and basic footwork. The emphasis of these Baltimore boxing classes is to gain knowledge of and develop skills in boxing.
Not Just "Modified Aerobics"
The nature of boxing requires a student to have the proper reactions drilled into their muscle memory. You can't be too slow or do things incorrectly when you have real punches being thrown at you. This doesn't happen if you're learning "cardio aerobics boxing" that is solely focused on fitness.
At Crazy 88 Mixed Martial Arts, the emphasis is on both proper technique AND fitness. You'll sleep easier knowing that what you're learning will work if you're ever forced to fight. And of course, you get the bonus of training in a clean, professional environment with expert coaches.
Ready to train hard and win?
Need to Gain Skills Fast?
Personal Boxing Training Available
Private boxing training is available. If you are under a strict schedule or would just like to supplement your group boxing classes, personal lessons are a great option.
Our trainers will provide a customized session for you – that will match your experience and fitness level. These lessons are popular for busy executives, children who aren't ready for the adult boxing classes, as well as those with special concerns such as religious or health restrictions.
Meet your goals head-on with best-in-class personal boxing training at Crazy 88 Mixed Martial Arts.
Boxing for Competition and Mixed Martial Arts
At the highest levels of the sport, boxing is a harmonious blend of violent speed, explosive power, and shocking endurance. The ability to properly throw punches, move around your opponent, and defend are indispensable – whether you are competing in pure boxing, Muay Thai Kickboxing, or Mixed Martial Arts.
Unlike most boxing gyms in MD, Crazy 88 has a structured progression so you will be able to not only train but compete (if you want) at your respective skill level. You'll start by participating in hard sparring, then move onto Smoker Fights. Once you become comfortable, you'll start competing in amateur bouts and eventually become a Professional.
If winning is important to you, its important that you not only receive the proper training but that you receive the proper mentoring and guidance. These are areas in which the Crazy 88 martial arts coaches specialize. If you need to improve your boxing for MMA fights or Muay Thai fights, you will be in the perfect environment. Our staff has had over a decade of preparing students for different styles of competition and at all different levels. You're not going to be learning techniques that only work in one particular area but might get you hurt in another.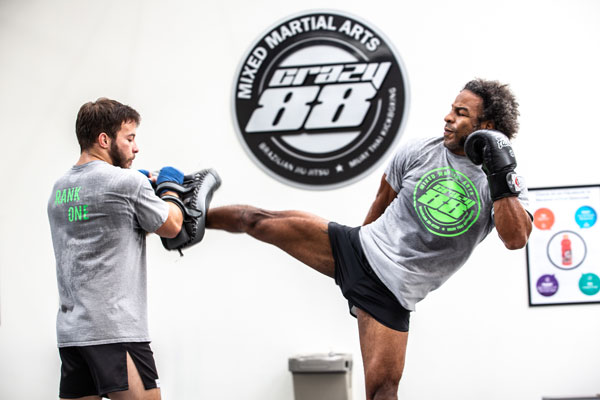 The Crazy 88 Starter Kit has everything you need to know about our programs.
Topics Covered Include:
Tuition Guide - How Much Does Training at Crazy 88 Cost?
6 Common -But Easily Avoidable- Mistakes People Make When Choosing a Martial Arts School
Six Costly Martial Arts Misconceptions that Parents Mistakenly Believe
FOR COMPETITORS - The Dirty Secret that Baltimore-area MMA and Jiu-Jitsu Schools Don't Want You To Know
Rave Reviews from Other Boxing Students
"What sets Crazy 88 apart from other gyms is the warm, welcoming, inviting atmosphere along with the diversity. And we can't forget about the idea of watching regular, everyday people turning into real fighters."
Khalil S.
Interior Designer
"I love the place. Its a great place to train. When I first started, I was 285 pounds. I'm down to 270 pounds now. And I'm still going. "
"I think some women might be hesitant to come into classes, especially co-ed ones. Sometimes I'm the only woman there and I never feel weird about it. It's never been an issue."
Aubrey B.
Software Engineer
"I've gotten more visibly in shape. I've lost some weight. I've toned up a lot more and I've also gained the self confidence that you can only gain here because the coaches push you. "
You can't win if you don't train. Get started!