Why Train in Mixed Martial Arts at Crazy 88?
Get In Amazing Shape
Develop a functional and practical level of fitness.
Superior Self-Defense
Develop the ability to protect yourself against punches, kicks, takedowns, and submissions.
Train with a team
Enjoy training and competing in an activity that combines the best aspects of both team and individual sports.
Be A Competitor
Learn to compete in the most challenging form of competition in the world.
Currently 9-2 Pro and 5-0 Amateur, Jon Delbrugge started at Crazy 88 with no martial arts experience beyond one year of high school wrestling.
Enjoy Top-Level Training with Our Unique, Effective System
Crazy 88 is proud to offer a completely unique training system that offers both a beginner-safe family environment for students who just want to learn and get in shape, and a professional training environment for experienced students and professional fighters.
Gain the benefits of a system that has been developed and tested over decades to consistently produce top-level fighters out of any student willing to put in the mat time! Even those who aren't training for competition will enjoy the benefits of superior fitness and self-defense skills.
Ready to train hard and win?
Need to Gain Skills Fast?
Personal MMA Training Available
Private MMA training is available. If you are under a strict schedule or would just like to supplement your group classes, personal lessons are a great option.
Our trainers will provide a customized session for you – that will match your experience and fitness level. These lessons are popular for busy executives, children who aren't ready for the adult classes, as well as those with special concerns such as religious or health restrictions.
Meet your goals head-on with best-in-class personal mixed martial arts training at Crazy 88 Mixed Martial Arts.
Train Like a Professional—Without the Pressure!
Our Mixed Martial Arts program is structured for everyone – from athletes to couch potatoes, experienced martial artists to total newbies. We are proud of the fact that we develop our fighters from scratch. It is not uncommon for students to come in as inexperienced novices and a few years later begin competing and winning in professional fights all across the Globe.
You will learn Brazilian Jiu-Jitsu and No-Gi Grappling from the only program to produce Brazilian Jiu-Jitsu and No Gi World Champions.
You will learn Muay Thai Kickboxing from striking coaches who spend one month every year living and fighting in Thailand, gaining real world fighting experience and hands-on experience.
Best of all, you will learn from and develop with a team of instructors who have proven success in the coaching field.
There is no guesswork about what it takes to be successful in MMA. We put you on the path to success whether you have dreams to be the next UFC champion or simply desire to learn the real MMA fighting skills found in the tournaments themselves.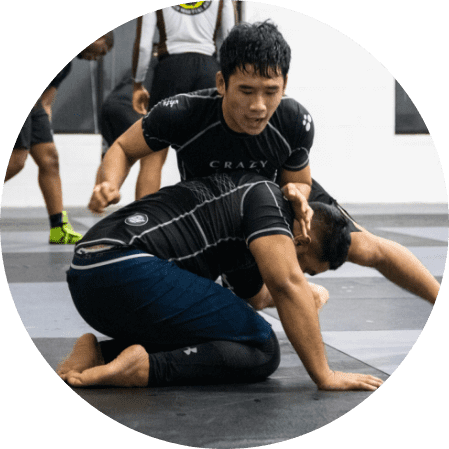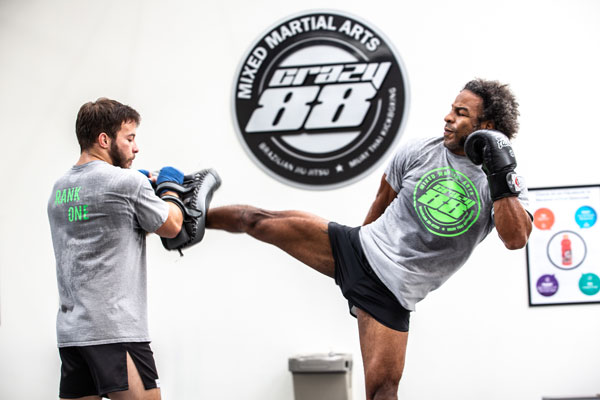 The Crazy 88 Starter Kit has everything you need to know about our programs.
Topics Covered Include:
Tuition Guide - How Much Does Training at Crazy 88 Cost?
6 Common -But Easily Avoidable- Mistakes People Make When Choosing a Martial Arts School
Six Costly Martial Arts Misconceptions that Parents Mistakenly Believe
FOR COMPETITORS - The Dirty Secret that Baltimore-area MMA and Jiu-Jitsu Schools Don't Want You To Know
Rave Reviews from Other Mixed Martial Arts Students
"Why go anywhere else and train with someone not as good as Crazy 88? I'd rather come here and get beat up everyday. That way I know I'm learning and I'm getting better. "
"The instructors are really trying hard to make sure you're learning a skill, and that's what I love. I really feel like I'm paying for something that's going to stay with me for life. "
"I have countless stories of beginning students who I wasn't sure would continue, turning into confident and serious fighters over time. You just cannot know by looking at a person who the next competitor is. "
Jon D.
Professional MMA Fighter
"This gym is hungry to make good fighters and have people with good character. I am proud to say I train at the Crazy 88 and can't wait to improve my skills. "
"I've been other places where coaches aren't very diligent at teaching, and a little bit lazy. Crazy 88 is a really good environment. Everybody's been nice, but at the same time training very seriously."
You can't win if you don't train. Get started!