Train like a pro, get in the best shape of your life.
Step into the cage and win… or just get in the best shape of your life
Use the training techniques of top-level organizations, beginner through advanced
Be a part of our friendly, challenging community
Gain the skills and confidence to feel safe in any situation
"*" indicates required fields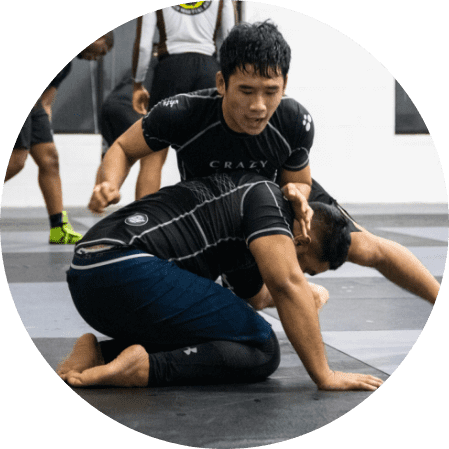 At Crazy 88 we don't teach MMA because it's what's "In" right now. We've been teaching MMA in the Baltimore area since we opened our doors over 10 years ago.
Located throughout the Baltimore area, Crazy 88 Mixed Martial Arts is one of the East Coast's most credentialed martial arts programs. We train all skill levels and all ages in the most effective and reliable martial arts systems in the world.
Crazy 88 has specialized in Mixed Martial Arts, Brazilian Jiu Jitsu, and Muay Thai Kickboxing since 2005. Our award-winning training programs are the perfect fit for those seeking fitness or self-defense or competition, or a combination of all three.
Muay Thai Kickboxing is the striking style most commonly used in professional Mixed Martial Arts (UFC) style competitions.
It is known as the "Art of 8 Limbs" because it allows use of punches, kicks, elbows, and knees—making it the most versatile and effective striking system on the planet. Even better, it is a great workout and not boring—this motivates people who normally hate going to the gym and gets them working out!
Discover the science and mechanics of proper striking
Learn to defend against opponents of all types
Master devastating knockout strikes and build unmatched power
Develop strong cardio strength along with explosive moves
Improve focus, concentration and eye/body coordination
Brazilian Jiu-Jitsu (BJJ) is a complete fighting system that teaches you how to control and subdue your opponent. You learn not only how to immobilize an opponent effectively so they can't attack you, but also how to defeat them humanely without having to seriously hurt them. It's the only proven style where a smaller person can immobilize and defeat a stronger, larger attacker.
Learn to defend yourself on the ground as well as in close range

Train in a "must-know" style for UFC fighters and other mixed martial arts pros

Master chokes, armlocks, and other submission holds to end any confrontation

Have fun while mastering the martial art commonly referred to as 'human chess'
Don't Take Our Word For It
"Why go anywhere else and train with someone not as good as Crazy 88? I'd rather come here and get beat up everyday. That way I know I'm learning and I'm getting better. "
"The instructors are really trying hard to make sure you're learning a skill, and that's what I love. I really feel like I'm paying for something that's going to stay with me for life. "
"I have countless stories of beginning students who I wasn't sure would continue, turning into confident and serious fighters over time. You just cannot know by looking at a person who the next competitor is. "
Jon D.
Professional MMA Fighter
"This gym is hungry to make good fighters and have people with good character. I am proud to say I train at the Crazy 88 and can't wait to improve my skills. "
"I've been other places where coaches aren't very diligent at teaching, and a little bit lazy. Crazy 88 is a really good environment. Everybody's been nice, but at the same time training very seriously."